Subscribe to our blog to receive two advent reflections each week – beginning with the theme of hope this week. All Nations' missionaries, hub staff, and friends have contributed to help you connect with Jesus as you prepare to celebrate His coming.
—-
Mary's Hope Wasn't Lonely
by John Arndt | Advent Week 1: Hope
Hope-Drenched for Communion
Advent is hope-drenched for communion. We'd like it in pristine chapels or thriving marketplaces, but sometimes fleeing to the hills for friendship is the only option when we're faced with tremulous hope.
At the beginning of Luke, we meet a perplexed young virgin, bowled over with the news that she will be the mother to the long-awaited Messiah. She is graciously given the angelic news that she's not alone, that another woman cultivates impossible-hope. Her cousin, long called barren, is expecting, and Mary can hardly wait to see her.
How did she carry hope on that long walk? She may have been young, but she must have known the dire end of so many other self-proclaimed messiahs, dead at the hands of occupying Rome.
Not Static
A friend recently described a hope he discovered in the depths of his soul as "not static," like an abstract principle, but as "a longing."
What is the longing we see Mary carrying, hands around her still-flat belly, trekking up in the hills to see her hope-sister? It was far more than to be called mother. Let's look at some of the song that spilled across her lips.
"He has shown strength with his arm; he has scattered the proud in the thoughts of their hearts. He has brought down the powerful from their thrones, and lifted up the lowly; he has filled the hungry with good things, and sent the rich away empty."
Her song is more a revolution than a lullaby. More about a nation than a mother. It's good news to the awe-filled, the humble, the hungry, the powerless.
From Mary, For Us
What does Mary's hope carry for us, in our work?
Hope blooms in diverse ways. For some, it puts steel in our spine, freeing us to sell everything we have and move across the world. It squares our shoulders so we can confront our fears of learning another language or fundraising. For others, it's a blanket we pull up around us when the chronic pain doesn't retreat, when the prayerful tears don't bring the relief that we crave.
Hope blooms in unexpected ways, but the path of Mary led right to companionship. What about her barren cousin's miracle set her packing? What did she read in it about her own longing?
We aren't meant to nurture our hopes alone.
Who might you greet with the joy of Elizabeth, with the comfort of communion?
Who can help you steward your own scandalous hope, reminding you are not alone in your suffering, your longing, your tear-stained persistence?
May our hope together lead us to God-with-us.
—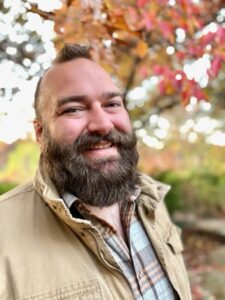 Written by John Arndt, who says: I was first invited into the story of All Nations in South Africa by an intriguing woman who later became my wife. After seven years there, we now live in Oklahoma, USA, with our son. Hope led me to Africa, and back to America.
*Image from https://www.thescottsmithblog.com/2017/08/whats-really-happening-at-visitation.html