Fred is Zambian and works and lives in Zambia with his wife Faith, who is from the US, and their two children. He was invited to do the Church Planting Experience training in Zambia in 2016. Since then he has been making disciples and serving people in many ways. He became part of the All Nations Kansas City team when he married Faith in 2019.
One key thing he appreciated from his training with All Nations was learning to make disciples using very simple but powerful methods. Fred shares his story below.
Making Disciples of any Educational Background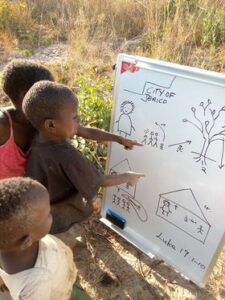 I have seen that we can start discipleship movements in villages where people cannot read or write – lack of education does not stop us. Discovery Bible Study (DBS) is a very simple and powerful tool to share and make Jesus known. The use of simple drawing when telling a story has helped us a lot to share the gospel with those who cannot read.
With the help of the Holy Spirit, we are seeing transformation. In the last few weeks I started another Bible Study group. It is in an area of our city that is not developed, and the lives of the people are not much different from those living in villages. Most of them do some work and others survive in other ways. I do this Bible study with the mothers, and it's my opportunity to also share Jesus with their children. I have been praying a lot for these people and their children to know the truth.
I have an open invitation from a man in a nearby village with whom I shared the simple way I make disciples. He asked me to come train him so that he also can make disciples, who make disciples!
On Mission
It is a joy for All Nations Kansas City to serve and care for faithful disciple makers like Fred and Faith. We want to continue training people to make disciples and train leaders to ignite movements among neglected peoples, whether those leaders have an education or not!
—
Would you like to join us to support Fred, Faith, and other missionaries to make Jesus known – and to multiply those who do so across the street and around the globe? Join us at Further Together 2022: Making Jesus Known, our annual fundraiser dinner, on September 16, 2022!
Interested in getting equipped yourself to make Jesus known? Check out our Storytelling Training to learn to share stories and make disciples like Fred described, and also the Church Planting Experience training that set him on his journey!