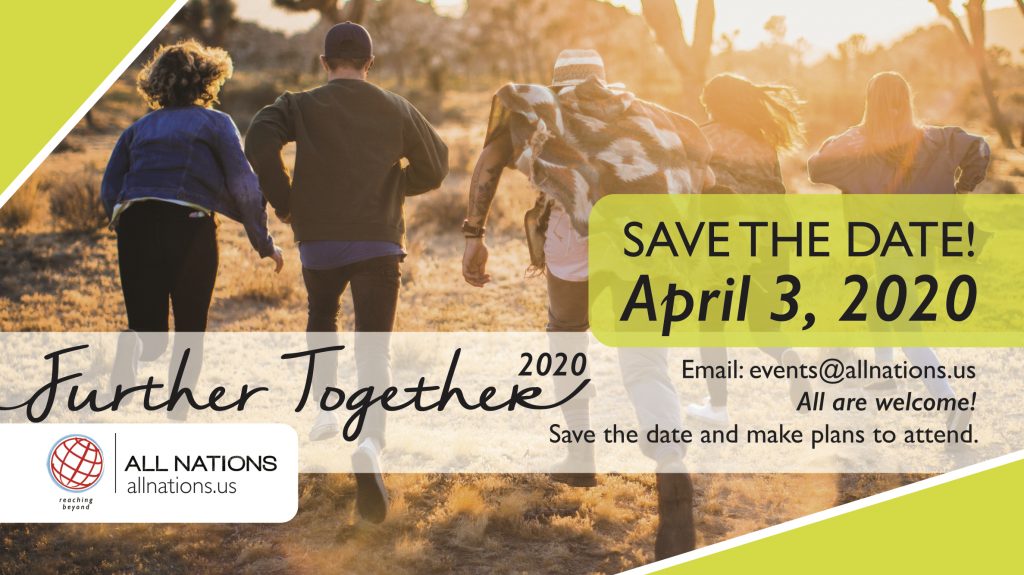 ---
2019 Event Information

---
Jesus is worth it.
How far will you go?
---
2019 Fundraiser was on Friday, April 5, 2019
If you want to partner with the work of All Nations to extend God's blessing to all people groups on earth, you may give here.
---
Learn about training opportunities or going or other volunteering using any of the following options:
Text any of the following words to 816-281-0880 to indicate your interest, and we will get back with you! SendersU / GoToUnreached / Volunteer
Email us at with any questions or comments
Get trained at any of our many trainings – see the trainings using the link below.
---
All Nations' vision is to see Jesus worshipped by all the peoples of the earth.
Join us in extravagant love and sacrifice as we raise $250,000 in 2019 towards our mandate to make disciples among all nations. We send people to the neglected, lost, and forgotten to ignite movements to Jesus. To do this we will train goers and senders in every state by 2022! We need your help. Every dollar counts!
All Nations defies fear in making disciples and reaching the neglected.
---
Featured speaker Jaime Nate Mincaye Saint, executive director of Indigenous People's Technology and Education Center (I-TEC), shared on April 5, 2019, how the life mission and storylines of Nate Saint, Jim Elliot and many others are still unfolding – and how we can enter into those stories. He challenges us to consider how we will finish the Great Commission and explains the uniqueness of disciple making movements. The link below takes you to his message, recorded with Facebook Live.
Jaime was born in Willmar, MN, into a family with a heritage in missions. His dad, Steve, is the son of martyr Nate Saint, a jungle missionary pilot who, along with Jim Elliot, Nate Ed McCully, Peter Fleming, and Roger Youderian, was speared to death in the Amazon Rainforest of Ecuador, South America in 1956 by the Waodani tribe. Elisabeth Elliot, wife of Jim, and Rachel Saint, sister of Nate, returned to live among the Waodani. The killings once prevalent in their tribe virtually stopped and many of the Waodani heard the Gospel and believed. Steve was baptized by some of the same men who speared his father in the jungles some years later.
---
Questions? Please email us at: .
All Nations: www.allnations.us