We asked All Nations missionaries around the world to share how their professions, which give them Creative Access to their countries, help or hinder them. Also check out Creative Access: Pros and Cons blog, and the next three blogs which will also have stories on this topic!
Agronomist in Central Asia: Brian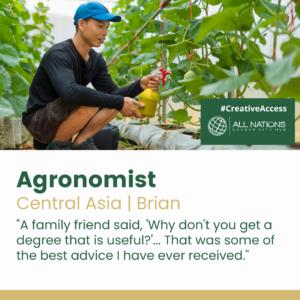 Path: Since high school I knew that God was calling me overseas. I considered a Bible degree, but thanks to a friend's question ("Why don't you get a degree that is useful? You can always go to seminary later."), I decided to study agronomy. After getting my Bachelors in Agronomy, I went to seminary and got a Masters degree in theology and also focused on intercultural studies. After graduating, I worked for a few years with large agricultural companies, to gain experience, and while we were waiting for the Lord to send us overseas.
Help or Hinder: Having an agricultural degree has opened up many doors to creative access countries. All countries in the world are doing some type of agriculture, and all want to increase their production. Agriculture expertise is in great demand, especially in developing countries. Farming provides opportunities to visit farmers weekly, if not more, thereby helping with building relationships and sharing life together. Farming is a daily reminder of our dependence upon God.
Access: Where we are, it is possible to be here without a professional skill or business, such as a language learning visa. But people who do not have a profession/business are often looked at with suspicion. With a skill, it brings practical help to the country, as well as providing meaningful opportunities to share Truth.
Raising Halal Goats in SW US: Ryan and Beth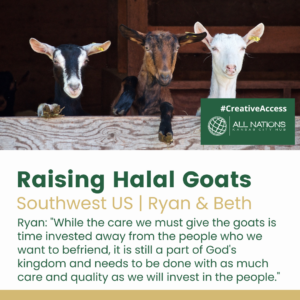 Path: We recently began a small business raising halal meat goats as a mean of access into a people group we desire to reach. We came to this location with some experience and skill in the goat raising process, having done so on our small farm back home. We continue to learn and grow in our knowledge of raising quality and affordable goats for halal meat purposes.
Help or Hinder: Raising livestock has a unique set of challenges as each season brings change to what the daily job actually is. This means that it is difficult to gauge exactly how much time will be needed to properly care for the animals.
For example we recently had a doe give birth to triplets! And while this is a blessing, it came with a set of unforeseen challenges. The momma is unable to feed her kids due to former medical problems, so we have added bottle feeding three baby goats every four hours, to our daily routine.
While this is time invested away from the people who we want to befriend, it is still a part of God's kingdom and needs to be done with as much care and quality as we will invest in the people.
Access: While we could be here without this business, we believe it will give us a position of serving these people who are currently making a three hour trip to purchase halal goat meat…. Since this is a newer endeavor, we've still yet to see the effectiveness of it. However it has given us a natural access into the people group we're approaching and has allowed us to begin relationship's from a place of serving them in a practical need.
—
Learn about getting trained to ignite a church planting movement (as a full time missionary or a tentmaker!), and the path to the field with All Nations.