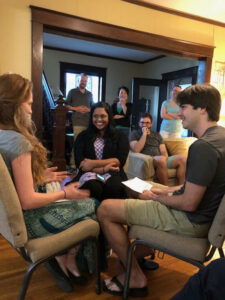 John and Nicole McVay are a part of In His Image, a ministry based in Tulsa, Oklahoma, that serves students around the globe. In His Image is a Family Medicine Residency program that focuses on training students and providing healthcare overseas. Students apply to In His Image from all over the United States and many international students have been through their program as well.
In Need of a Retreat 'Home'
For 11 years the organization has offered an annual retreat to their students. The retreat focuses on allowing students to seek God through worship, prayer and prophecy. In the past, the International House of Prayer (IHOP) hosted the program, providing lessons and housing for the students in their campus apartments.
A few years ago, the team was unable to use IHOP housing due to on-campus students needing the space. It was very challenging for the leaders of In His Image to pivot and find a new location.
"We looked everywhere and couldn't find a place that would house our large group," Nicole said. "It was really difficult."
But, God led In His Image to find the All Nations Guest Houses and they were overwhelmed with relief. The houses perfectly met their needs. They especially liked the convenience of the houses being located in a cozy neighborhood rather than along the busy streets of downtown KC.
An Ideal Location
"One of our families had severely disabled children, and since we designated one house specifically for the children, it made it easy for the adults to do their lessons," Nicole said. One of the houses on the property was used for babysitting. Each time there would be a meeting or gathering for lessons, the children had their own space in one of the smaller houses. This made the retreat enjoyable and it took away potential distractions.
"Being able to meet in a home, rather than in a conference room at a hotel, is much better for our people," Nicole said. "They can relax and spend time truly seeking the Lord. It's also better for preparing meals. Overall, it just feels like our students can be more at home."
The team loves how many kitchen cabinets there are and they use the front porch for mealtimes. The porch is a favorite amongst many students in the group.
In Need of Repair
While the ministry appreciates the blessing of using the All Nations Guest Houses for their retreats, they agree that they could use some interior and exterior updates.
This holiday season, the McVays are urging All Nations supporters to consider making a donation to help restore and update the All Nations Guest Houses because of how many students, missionaries and international guests pass through them. They want to see more people come to Christ, and they believe All Nations Guest Houses are a stepping stone toward that journey.
Nicole said, "Having so many Christian internationals come through the Guest Houses to learn about how to effectively share the Gospel proves that All Nations is a profitable place for the Kingdom of God."
Will you help us revive the All Nations Guest Houses? To make a year-end, holiday gift, visit this page.