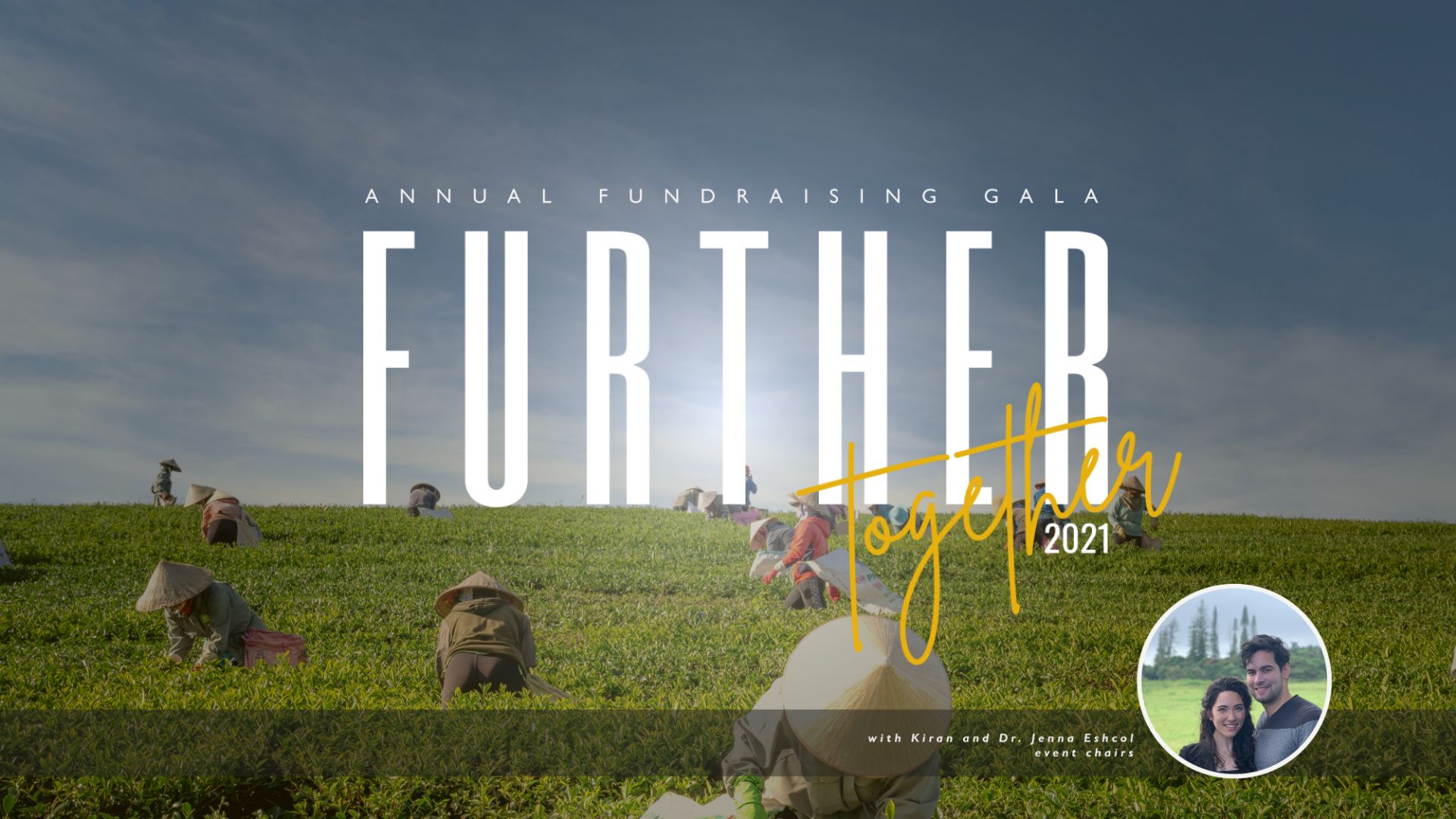 Register for Further Together
Annual Fundraiser | September 10, 2021 | Kansas City, MO
Register
5:00 PM Silent Auction
6:30 PM Dinner served (plated)
7:15 PM Program 
Interested but unable to join us in person?
You can volunteer, pray, send, and give!
Join us on our Facebook Page, where we will live-stream the program beginning at 7:15pm CST
Greetings!
We are so pleased to announce and present our 2021 Further Together Fundraiser Gala and hope you will make plans to join us! Together, with our 2021 Event Chairs, Kiran and Dr. Jenna Eshcol, we welcome you and friends!
In advance, we are inviting corporate and organization sponsorships this year and we are also presenting a silent auction! If you know of an organization. or corporation. that might want to sponsor, please email us at: . If you would like to us procure items for our silent auction, we would love to hear from you, too! You can email us at: .
On behalf of our Executive Directors, 2021 Planning Team and Event Chairs, thank you for your love for the neglected — the least, the last, and the lost. We invite you to come alongside us and finish the Great Commission together!

Further Together Mask Guidelines
This event is being hosted in Clay County, which does not have a mask mandate. We will therefore not require masks, and ask that you consider the good of the other guests and act accordingly. Please help us curb the spread of any viruses and watch online from home if you are ill. You are welcome to wear a mask at this event. The event will be held in a large auditorium at Shoal Creek Community Church, and tables will be spaced out as much as possible. You will be sitting with up to ten people at your table. The meal will be served to you at your table by servers with masks. It is difficult to wear masks while eating, so if you would like to sit in another area in the auditorium we will have open tables for those who wish to self-distance.
Special Thank You to Our 2021 Sponsors
Keller Williams Platinum Partners  – Bronze Level
Life Mission Church – Bronze Level
The Barnabas Group | Kansas City – Bronze Level