CPx
Church Planting Experience
Get equipped in simple church planting.
In Church Planting Experience (CPx), you will learn how to plant basic, essential churches that are easy to teach locals to lead. In this 3-week classroom experience, you will utilize simple discipleship based on the core of the Christian message. Churches you plant will rapidly multiply through people groups!
Anyone can learn and lead
You do not need a particular background or credential to take CPx. Jesus' first followers were common fishermen without any special training. He taught them to be leaders and sent them out to tell others about Him.
Start movements to Jesus
Entire people groups are coming to know Jesus and following him for the first time through church planting movements – churches that share Jesus and rapidly multiply. These movements are started by cultural outsiders who quickly hand over leadership to locals. The churches have local energy, worship, and flavor.
Would you like to learn how to make disciples who make disciples, and ignite a church planting movement? If you sense God's leading toward missions, CPx is a great place to start.
Why CPx?
Many organizations only provide training, or provide very general training. And many mission boards are only willing to send out workers who meet their various requirements.
Training and sending
All Nations will both train and send you, and walk with you to discern where God is leading you. Our training will specifically equip you to make disciples and train leaders to ignite church planting movements.
Leave equipped
At CPx, you'll:
Spend significant time practicing (and leading!) simple church
Join in praying for others and sharing your faith
Nurture a deeper abiding walk with God
Discover the steps to ignite a movement
Connect with like-minded companions
Grow in the 7 commands of Jesus
In it for the long haul
All Nations will stick with you from the first moment you think about missions, through your training and first field experiences, all the way through your long-term placement and eventual project completion. 
We don't just commit to train you. We commit to care for you through every season of your life as a missionary. CPx is the first step in a great relationship!
The Training Process
CPx is a three-week intensive classroom experience. Graduates of CPx are encouraged to then take the 9 month coached internship. 
The internship can be done from anywhere in the world. It will deepen and expand what you learned in CPx. You will deepen learning and abiding through experience, community, and personal coaching. All Nations internship coaches bring life experience that enriches the learning experience.
CPx is holistic, practical, and personal. Your head, heart, and hands will gain 7 abilities:
Honor other cultures
Share the Good News
Abide with Jesus Christ
Engage neglected peoples
Militant, passionate prayer
Be a healthy person on a healthy team
Ignite and shepherd church planting movements
Apply for Upcoming CPx Trainings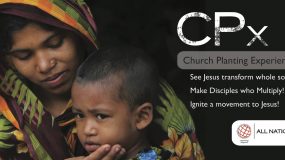 06/09/2024 - 06/29/2024 | All Day
Church Planting eXperience (CPx) is designed to teach you the heart of simple church planting!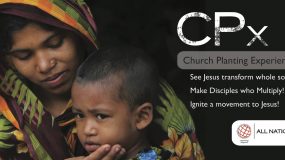 10/06/2024 - 10/26/2024 | All Day
Church Planting eXperience (CPx) is designed to teach you the heart of simple church planting!
Kids (0-12): $300 for the first child; $100 for each additional child
The cost of CPx includes three weeks of training, accommodations (if needed), three lunches each week, and also all costs of Pastoral Care and Internship coaching for the year following your CPx! While we do not usually give scholarships, we do offer discounts on the following scale: Trainees from developing nations currently residing in developing nations may pay 1/3 of normal tuition; Trainees from developing nations currently residing in more developed nations may pay 2/3 of normal tuition.
Students meet Monday to Friday, 8:30am to 5pm for teaching, worship, discussion, and growth. Saturdays are also filled with special activities! You will have two Sabbath days off. Count on being engaged the rest of the time!
CPx Tuition
Training tuition payments are NOT tax deductible. Funds raised for outreach trips overseas are tax deductible.
Paying Tuition by Personal Check
We prefer that you pay your tuition by check. Make out checks to "All Nations" and include a note indicating your name, your address and the name of the program you wish the payment to go towards. Do NOT write in the memo line of your check. Please mail all tuition payments to:
All Nations
PO Box 55
Grandview, MO 64030
Paying Tuition Online
You may pay your tuition online using Credit Card, ACH, or PayPal.
Email us for more information