Have you ever wondered how our All Nations workers make Jesus known in wildly different cultures and languages? Very creatively!
Jay and Kay are some of our most creative people. They are transitioning from roles as an Engineer and Administrator to focus full-time on making Jesus known to Tibetan Buddhists in the Himalayas. They will do this through creating exciting new media in the Tibetan language that connects these people to God's word and God's love! They have made a trip to the region to make connections, and plan to return long-term. In the meantime, they are already discipling Tibetans through the internet.
Jay Shares About "G"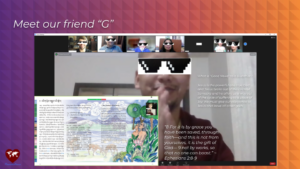 "We have already been interacting with Tibetan Buddhist seekers in the Himalayas through remote English learning classes and Discovery Bible Studies (DBS). We have been shocked by how few people have ever heard basic Biblical stories, like how God created the world.
We have also been encouraged to see how enthusiastic our Tibetan friends are to read Bible stories together in their heart language. We recently met 'G,' a Tibetan monk, in an online English class. The next day we invited him to a DBS. He was astounded when he realized that the Creation story we were studying was written out in Central Tibetan! Our friend 'G' is in this photo."
Why Jay and Kay Love All Nations
"We had been exploring several agencies before we met All Nations. But when we saw the empowering way in which All Nations trains leaders to ignite movements and really work themselves out of a job so that God's work can progress multiplicatively, we were all in with All Nations! As parents of a young kiddo, we have also been enthralled to see the value that All Nations places on every family member being actively involved in ministry. Our family believes we can minister more effectively as a family than as individual units. We are very thankful that we found this wonderfully diverse worldwide family called All Nations and we are excited to be on the team! #GoTeamJesus."
—
Would you like to join us to support Jay, Kay, and other missionaries to make Jesus known – and to multiply those who do so across the street and around the globe? Join us at Further Together 2022: Making Jesus Known, our annual fundraiser dinner, on September 16, 2022!
Interested in getting equipped yourself to make Jesus known? Check out our excellent lineup of upcoming trainings – both online and in person!