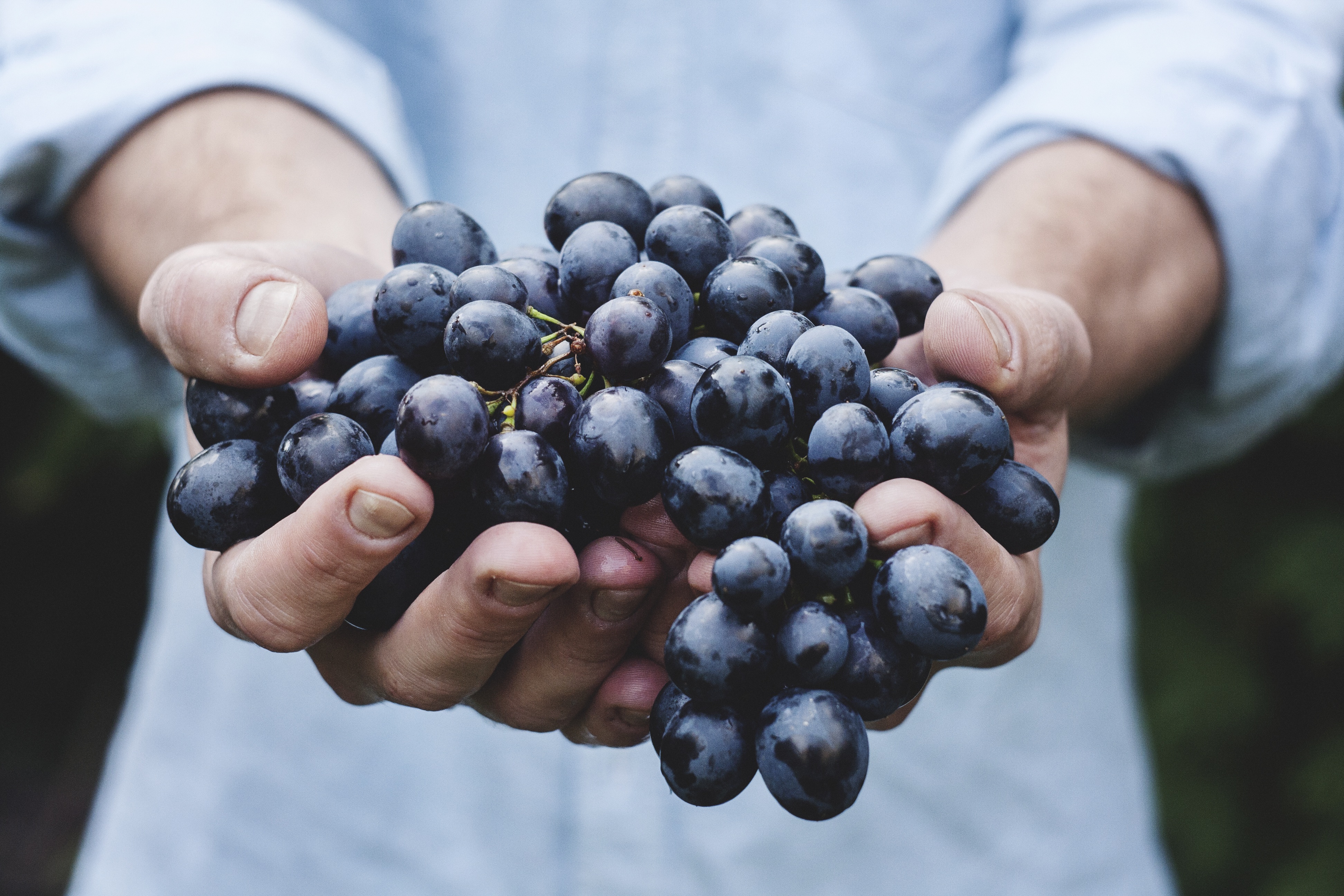 Many of the church planters that I train and coach have a fundamental belief problem: They do not truly believe that the harvest is plentiful but the workers are few (Luke 10:2).
This is the process that I believe many of our church planters have gone through:
They go to the field and sow some Gospel seed. However, their seed was rejected. (Let's assume that at the time they were sharing Jesus they were already competent in language and culture. They were conveying the Gospel in a way that had potential to make sense to the locals. A big assumption, but that is an issue for another day!)
They conclude that the harvest was not ripe – the people are hard. Since they feel God sent them there, they then believe something entirely false: It's my job to show them the love of Jesus. Now, they don't consciously say, "It's my job to make them ripe." Instead, lovely Christian language is used. This makes it hard to take issue with it. After all, love is the most basic of all of our commands. Like most times, Satan tells us a half truth. He tells us we are the ones with a problem and we need to fix it by ourselves.
As a result, they dig in their heels, settle down, and start working on being the most lovely and loving people (according to their definition) they can be. However, while they are doing this, a real harvest is being overlooked, perhaps just a village away, and ripe fruit is falling off and rotting.
In doing so, they fell into the same trap that Jesus' disciples did, believing, "…there are yet four months, and then comes the harvest…" (John 4:35).
Jesus' correction of them was, "…I say to you, lift up your eyes and look on the fields, that they are white for the harvest" (John 4:35). Obviously, the physical eyes of the disciples were open. It was their spiritual eyes; their I-believe-what-Jesus-says eyes that needed to be open.
Already Ripe
Do we truly believe that the fields are white for harvest as Jesus says they are? That belief changes everything because we do not want to lose any of the plentiful harvest:
It changes our prayers from just single individuals to entire communities. We don't ask God for just a couple more workers. We beg Him to raise an army.
It changes our strategy from:

"need to know everything" to "what are the very basics to equip and send out."
"make them ripe" to "test for ripeness." Work with those who are ripe.
"I need to lead everything" to "everyone needs to lead."

It changes our speed of implementation from a slow walk to as-fast-as-possible.
It changes our reliance on what I can do to relying heavily on the Lord and what He can do through me and many generations of others.
Let us cry out the Lord to help our unbelief so we can participate in a mighty harvest!

Find the Ripe Fruit
Luke 10 is quite clear on the process Jesus expects us to follow:
5 "When you enter a house, first say, 'Peace to this house.' 6 If someone who promotes peace is there, your peace will rest on them; if not, it will return to you. 7 Stay there, eating and drinking whatever they give you, for the worker deserves his wages. Do not move around from house to house. 8 "When you enter a town and are welcomed, eat what is offered to you. 9 Heal the sick who are there and tell them, 'The kingdom of God has come near to you.' 10 But when you enter a town and are not welcomed, go into its streets and say, 11 'Even the dust of your town we wipe from our feet as a warning to you. Yet be sure of this: The kingdom of God has come near.' 12 I tell you, it will be more bearable on that day for Sodom than for that town."
Notice that Jesus does not say that His church planters won't get rejected. In fact, He practically assures them that they will. He teaches them how to react when it does happen. He tells them to simply move on to another town.
This is where many have gone astray, as illustrated above. They believe they must stay in that particular place until salvation comes. However, if moving on is an unloving action, then why did Jesus tell people to do it? Is Jesus unloving? No, of course not. Jesus is always loving. We are the ones who misunderstand what it means to love well. So we draw wrong conclusions and therefore let the harvest rot in the fields.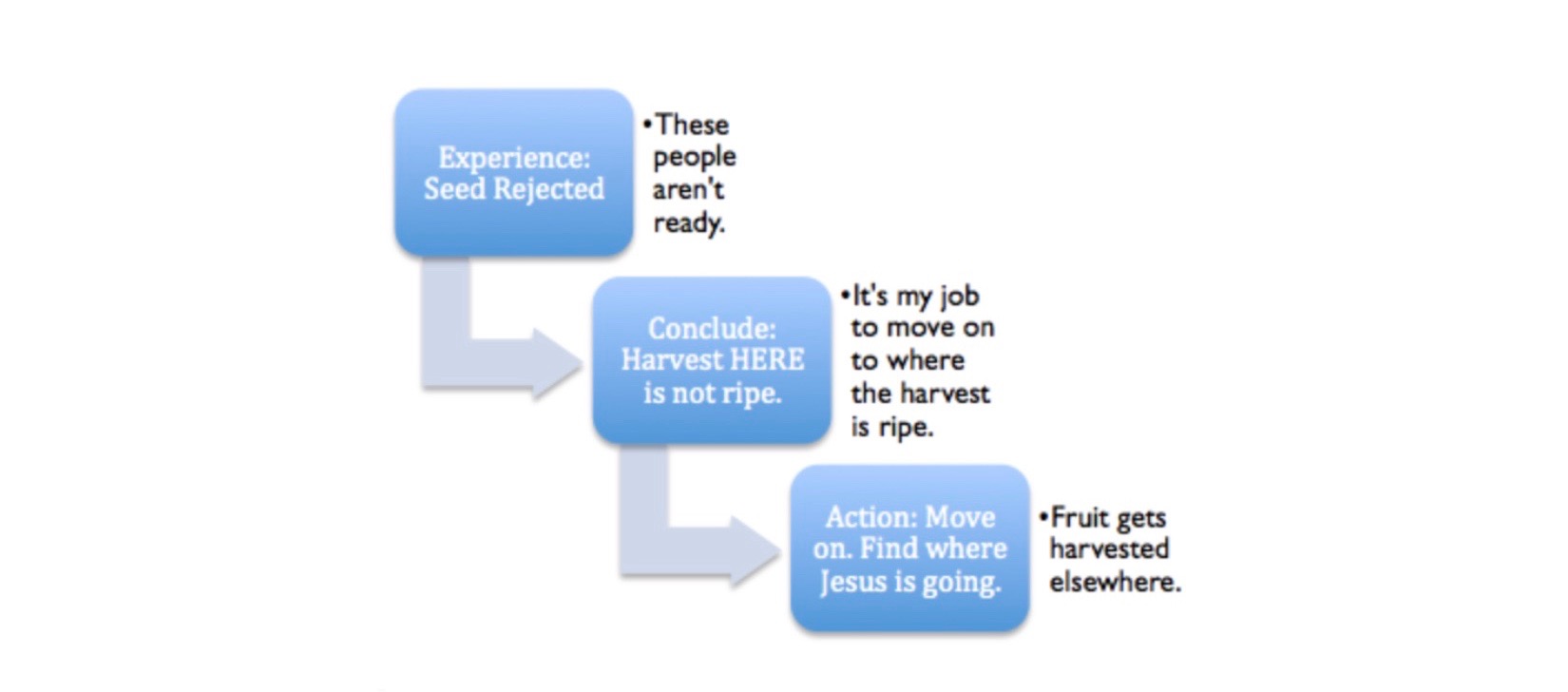 Stay updated with our blog to see Pam's next post about the harvest!