The Invitation: Provide Hope in Northern Uganda
You are invited to participate in fruitful work currently happening among homeless Ugandan people and South Sudanese refugees. Partner with Derek and Amanda* to meet desperate physical needs they encounter, as they work to ignite church planting movements.
Derek and Amanda fought through sickness and visa issues for months after arriving in Northern Uganda in April, at the same time getting to know people in their city and the refugee camps. They sensed the Spirit leading them to engage the homeless Ugandan people as well as their focus group, the South Sudanese refugees. In the last month, over 20 people in both these groups began following Jesus!
Derek and Amanda feel compelled to engage the vast physical needs around them while also inviting people to begin following Jesus. You can extend Jesus' tender care for the poor, orphans, and widows by giving to this spiritually fruitful work. Read on!
*Names changed for security
A Story: Meeting Scovia's Spiritual and Physical Needs
Written by Derek and Amanda
We shouldn't have been surprised that God answers prayer, but one day we were shocked…
Before we made the bumpy hour-long drive to the South Sudanese refugee camps, we prayed for God to lead us to people of peace – like we do every time. People of peace are ready for the gospel and will also welcome us to share with their communities.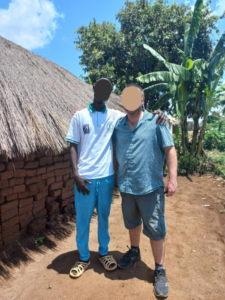 We met John, and within a few minutes he showed himself to be a person of peace as he walked around his community. He brought people from different families to sit together outside his grass hut for a Discovery Bible Study. Over 20 people showed up!
These South Sudanese refugees just loved studying the Bible! It was quickly decided that we should have the Bible Study weekly. They even wanted to take responsibility to share what was learned with anyone who could not make the set time.
At the end of the Bible Study, we noticed a young woman looked malnourished and our hearts were drawn to her. Scovia, a sweet 16 year old, came and spoke with us. She decided that day she wanted to accept Jesus into her heart and follow Him with her life.
We learned more about Scovia's family from John who told us her mother was widowed and she seriously struggles to provide for her children. We were able to bless Scovia's family with a food package including essentials like, rice, posho, oil, salt, sugar, soap, etc.
The Need: Many More like Scovia
There are many more like Scovia in desperate need – especially widows and young children. Would you give today to show Jesus' care for others like Scovia?
The UNHCR has drastically cut back on food rations in the refugee camps recently, and we find people, especially widows with young children, in very desperate practical need.
Our goal is to raise $10,000, to be used in this way:
Purchasing Bibles
Feeding the homeless
Food packages for refugees
Urgent medical visits and medications
Transportation costs to and from the camps
Hiring a local to help with translation in the camps
School fees and uniforms for impoverished children
Starting micro businesses and small scale agricultural projects
If you give, Derek and Amanda will add you to receive their updates – which they regularly and faithfully write to share how God is working and ask for prayer.
Derek and Amanda have a history of faithful and fruitful service with All Nations. They have served ignited church planting movements among Muslim refugees in the Middle East and Europe. God surprised them by His recent clear leading of their family to Northern Uganda!