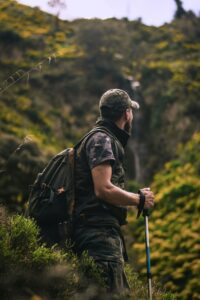 Written by Cordell*, an All Nations missionary in the Middle East
My path to becoming a missionary took me through some tough times. God has made it clear that He can use people like me who have a wild side and are willing to take risks for His kingdom!
I grew up on a ranch in Montana. At eight years old I gave my life to Jesus but I was a bad kid. My mom read missionary stories when I was young, and I remember her reading one about the 'God Smuggler' by Brother Andrew. I remember thinking that I could do that. However, I continued to struggle and had addictions as a teen.
At one point I had a conversation with a man who was the most Jesus-like person I knew, and I told him my story. He asked me, "What have you always wanted to do? God made you a little crazy and wild for a reason. Live out of that."
I remembered missions and smuggling Bibles, so I pursued that. I smuggled Bibles in Asia for six months. When I came back I took Perspectives with my sister, and it changed my view on missions. I did my project on an unreached people group with whom I had worked in Iraq previously, and I started planning to return. However, I hit roadblocks within my denomination. Through Perspectives and my sister, I knew of All Nations, so I connected with them and decided to partner with them in my path to missions.
I took a scouting trip to the Middle East, where I met M & C*. Because of COVID, M & C, my sister, and I were all stuck in in Montana. M & C asked us to pray about being a team with them. We said yes, and so did a good friend of mine. We specifically wanted to be in the Middle East among a least reached or unengaged people group who also have physical need. We just needed to discern where exactly we should go.
We prayed for many months with parents, pastors, and others, and decided to aim to go to a war-torn country in the Middle East. It was a natural fit for my vision and mission. We are in another Middle Eastern country now to learn language and figure out how to enter the country we want to enter. Our team has changed, as M & C are now focused on a different country with two others. So now my team is myself, my new wife, my sister, and my good friend. We are thankful for God's guidance thus far, and look forward to all the ways he will continue to go before us!
*Names changed or omitted for security
Check out what it looks like to train and go to the field with All Nations!