One reason All Nations missionaries like All Nations is because we include and equip kids.  Here, we share an email we received from parents of young children after CPx (Church Planting Experience, the training all missionaries must complete & that includes a track for kids) – and what other missionaries say. This post is part of a series on why our missionaries like ANKC. Check out past posts on how we we take seriously the mandate to care for one another, train with excellence,  and focus on movements among neglected peoples and make kingdom work accessible to all.
—
Kids Changed Through CPx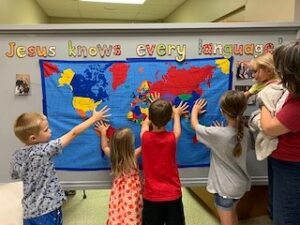 As my wife and I began preparing for CPX and our move into missions, we would have many discussions with our children, mostly about the changes that would soon take place and why we were going. The response from them often was, "I don't want to move away from our grandparents" or "can't someone else go?" Apparently they were not convinced that the great commission was for them also.
After just one week of kids CPX everything changed.
One evening, after a long and tiring day, as we tucked them into bed, and something I prayed sparked a question. This led to a 20 minute discussion on the reality of people who haven't yet heard about Jesus. During our conversation I could see the "lights coming on" in my children's hearts and minds! I'll never forget the words they said in conclusion. "Wait, if this is true then why are we waiting around here? Why don't we leave now and go tell them?!"
They began to own the importance of joining God in His mission to the least, the last, and the lost!
I am so thankful for Kids CPX and what it has done for my children!!
– From a thankful parent also trained in the June 2022 CPx
Other Missionaries on All Nations' Care for Kids
"As parents of a young kiddo, we have been enthralled to see the value that All Nations places on every family member being actively involved in ministry, because our family believes we can minister more effectively as a family than as individual units!"
– Jay, a newly trained missionary dad, explains one of the reasons his family decided to be sent by All Nations
"As a missionary with a family, especially of small children, we need special training, and different methods single missionaries are able to utilize. Even though Jesus didn't have physical sons and daughters, I believe having someone like our Pastoral Care Coach who has been on the mission field along with his wife and kids shows a side of Jesus we might overlook. That is to say, He not only calls and equips the adults, but also the children. The whole family is in consideration when Jesus calls us to the field. This family heart of Jesus shown to others through missionary families is invaluable."
– Frankie, a missionary dad who ministers to refugees in Europe with his family
——-
Interested in being trained as a family to go to the field? Check out our upcoming CPx training! You can also register here and gain free access to the Ignite Online Training Recording: Creating a Family Culture of Discipleship – Inviting Our Kids to Encounter God.