One reason All Nations missionaries like All Nations is because we focus on movements among neglected peoples and we make kingdom work accessible to all. Here, we share Susan's story of introducing Jene, from an unreached people group, to Jesus for the first time – and what other missionaries say about this value. This post is part of a series on why our missionaries like ANKC. Read about how we take seriously the mandate to care for one another, train with excellence, and read next week's post on how we include and train kids.
—
Hearing of Jesus for the First Time
Can you believe there are people who have never even heard of Jesus before? Susan, an All Nations missionary in rural West Africa, recently had the opportunity to introduce Jesus to an old Fulani woman, Jene, who fits this description.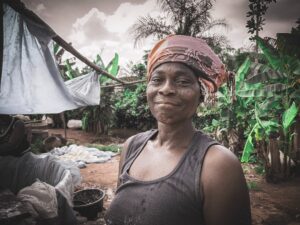 Jene lives in a remote Fulani village and had never heard of Jesus before. She can't read or write. She doesn't know what the world is like outside of the Fulani villages. Last month, she visited Susan's village for a few weeks to take care of her injured son, Sammba, who is a friend of Susan.
Susan had met Jene once a long time ago. After hearing about the situation with Sammaba, Susan went to visit and saw Jene there. Jene was happy to see her, and soon they became friends.
One day Susan felt the encouragement of the Spirit and shared Jesus with Jene. Jene accepted the gift of eternal life right away, and quickly shared about Jesus with her friend! Susan visited Jene often and shared more about Jesus until she left for her own village.
Susan says, "I'm with All Nations because we share the same goal – to make disciples among the least reached people groups. All Nations' main focus is to fulfill the Great Commission." She lives in a remote Fulani village, and daily labors to make disciples and plant churches among this unreached people group.
We are proud to have Susan on our team, and pray for many more like her – and for many more encounters like this for her and for all of our missionaries!
What Other Missionaries Say
"All Nations makes Kingdom work accessible to all. They simplify church, for those of all backgrounds, education levels, and cultures. I come from inner city Philadelphia, from parents who immigrated to the US in the 60's. I grew up in a drug dealing, gang affiliated family. All Nations took a chance on me. They helped equip me, led me to personal healing, restoration, and to grow in the confidence of my identity, calling and gifting. Their focus on the unreached people groups is also a huge draw for us."
– Frankie, reaching refugees in Europe
"We started collaborating with several sending organizations before we met staff from All Nations. When we saw the empowering way in which All Nations trains leaders to ignite movements and really work themselves out of a job so that God's work can progress multiplicatively, we were all in with ALL Nations!"
– Jay, preparing to reach Tibetan Buddhists
"We believe people of every education level can have the godly character qualities needed for leadership. Leaders can be people with PhDs or people who cannot read and write. We raise up leaders who are authentically weak in Christ and will lay down their lives for the sheep."
– Dr. Pam Arlund, International Leadership Team Member for All Nations International 
——–
Want to learn more about All Nations? Check out our mission, vision, and values, and also the path to launch to the nations.
Interested in getting equipped yourself to make Jesus known? Check out our excellent lineup of upcoming trainings – both online and in person!