January is a month to look back and celebrate what God has done! Today we bring you a round-up of some of our favorites from 2022 – favorite blogs, favorite breakthroughs, and favorite (most attended) ignite trainings… which are still available to you. Read on!
Favorite Blogs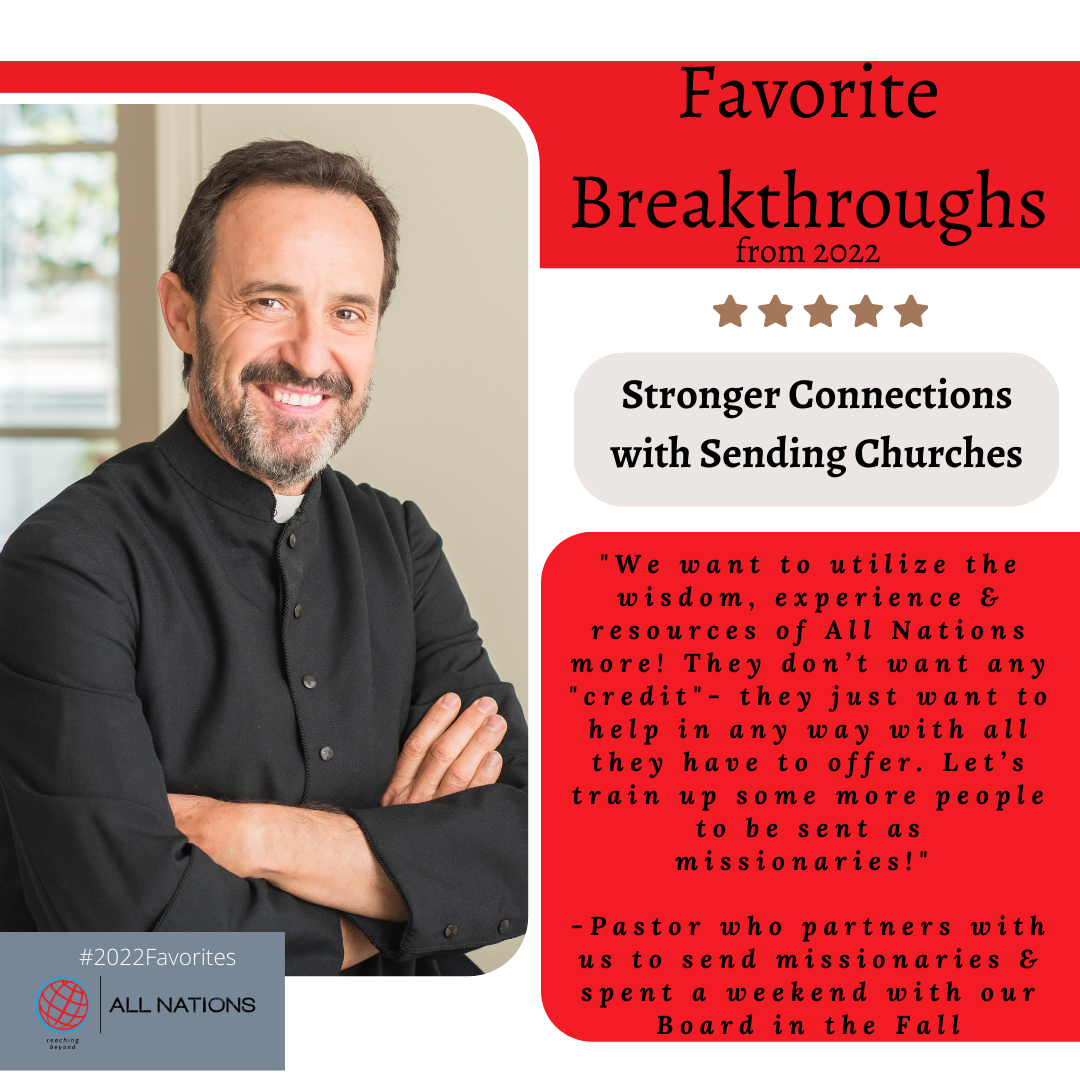 Stronger Connections with Sending Churches: This pastor says, "We want to utilize the wisdom, experience & resources of All Nations more! They don't want any "credit"- they just want to help in any way with all they have to offer. Let's train up some more people to be sent as missionaries!"
We thank the Lord for strengthening our partnership with this church pastor and several others who joined our Board of Directors for a time of reciprocal learning in the Fall of 2022!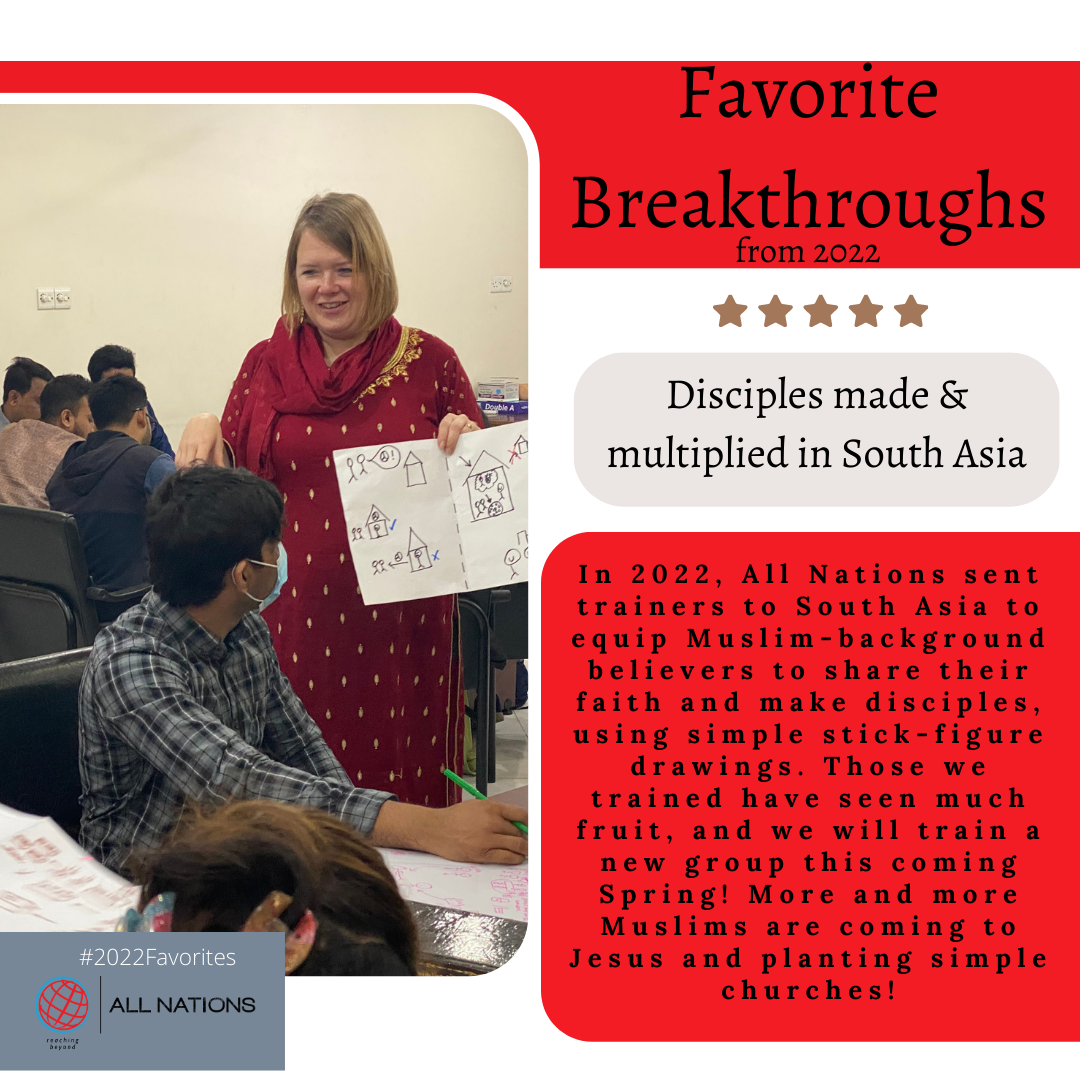 Disciples Made and Multiplied in South Asia: In 2022, All Nations sent trainers to South Asia to equip Muslim-background believers to share their faith and make disciples, using simple stick-figure drawings. Those we trained have seen much fruit, and we will train a new group this coming Spring! More and more Muslims are coming to Jesus and planting simple churches!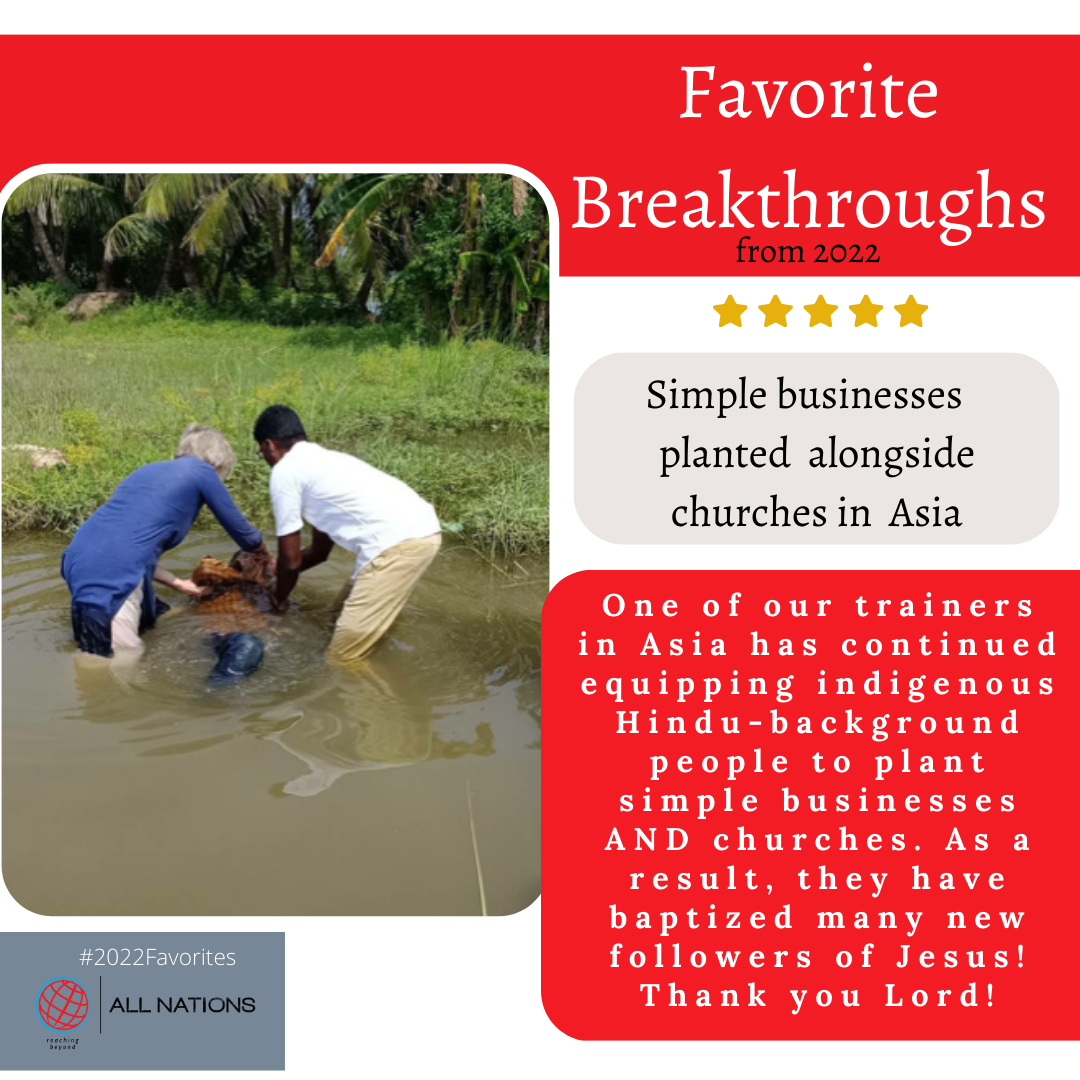 Simple businesses planted alongside churches in South Asia: One of our trainers in Asia has continued equipping indigenous Hindu-background people to plant simple businesses AND churches. As a result, they have baptized many new followers of Jesus! Thank you Lord!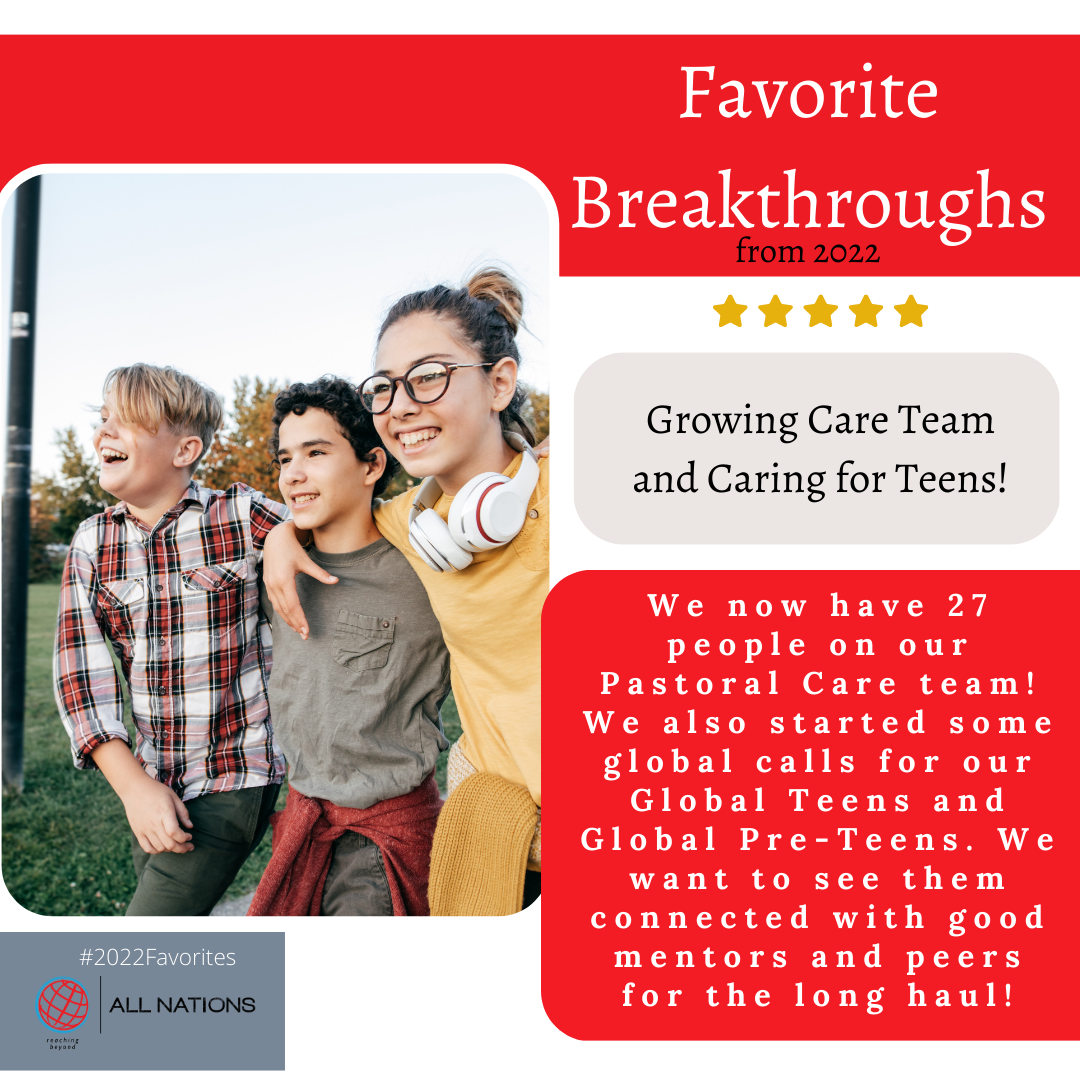 Growing Pastoral Care Team and Care for Teens: As our number of missionaries on the field grows, the team caring for them must also grow! We added seven people to our Pastoral Care team, for a total of 27 people committed to monthly calls and care for our missionaries. In addition to caring for adults, we started some global calls for our Global Teens and Global Pre-Teens! We want to see them connected with good mentors and peers for the long haul! Praise God for care and connection.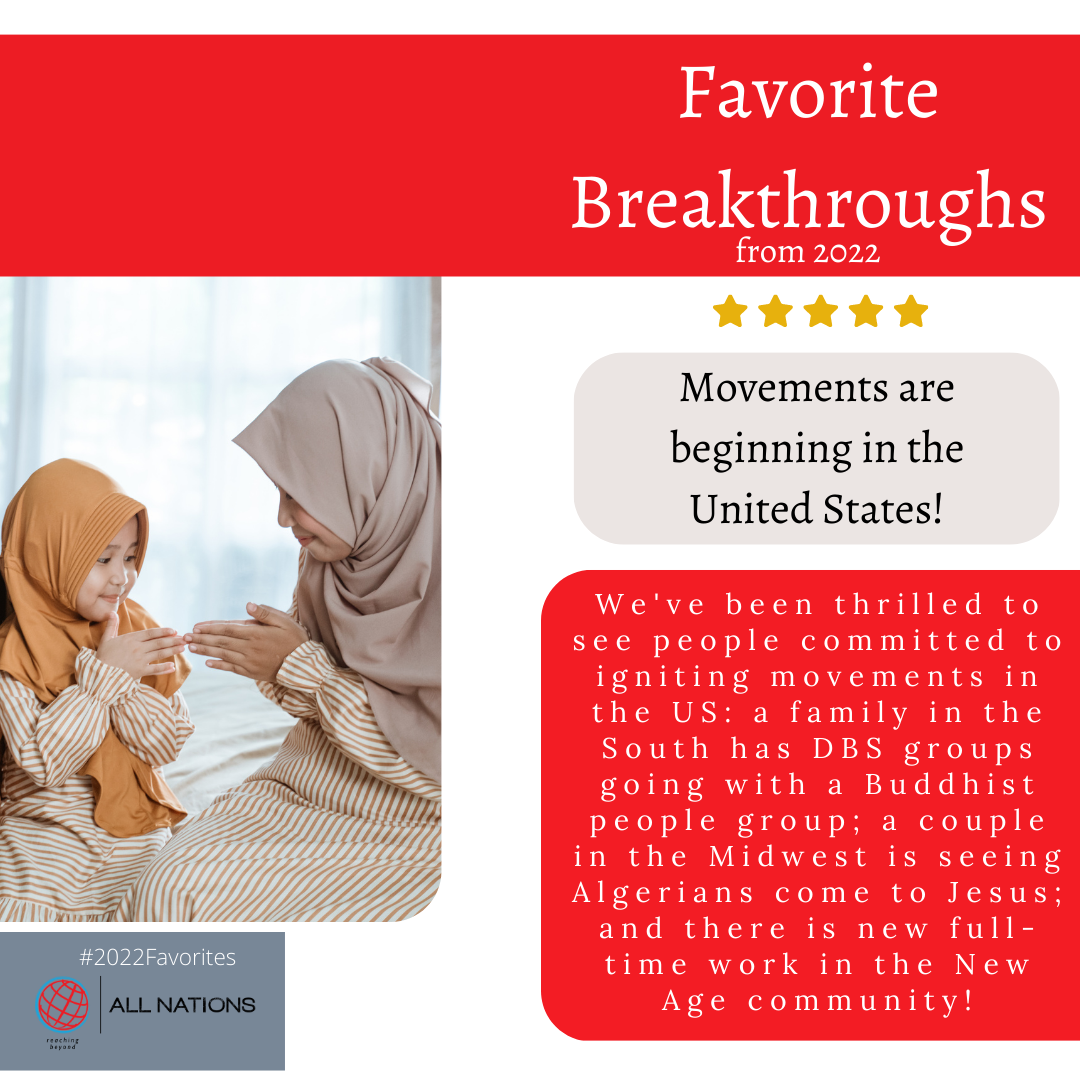 Movements are Beginning in the US: We have been thrilled to see people committed to igniting movements in the US this year gain traction: a family in the South has DBS groups going with a Buddhist people group; a couple in the Midwest is seeing Algerians come to Jesus; and there in new full-time work among the New Age community!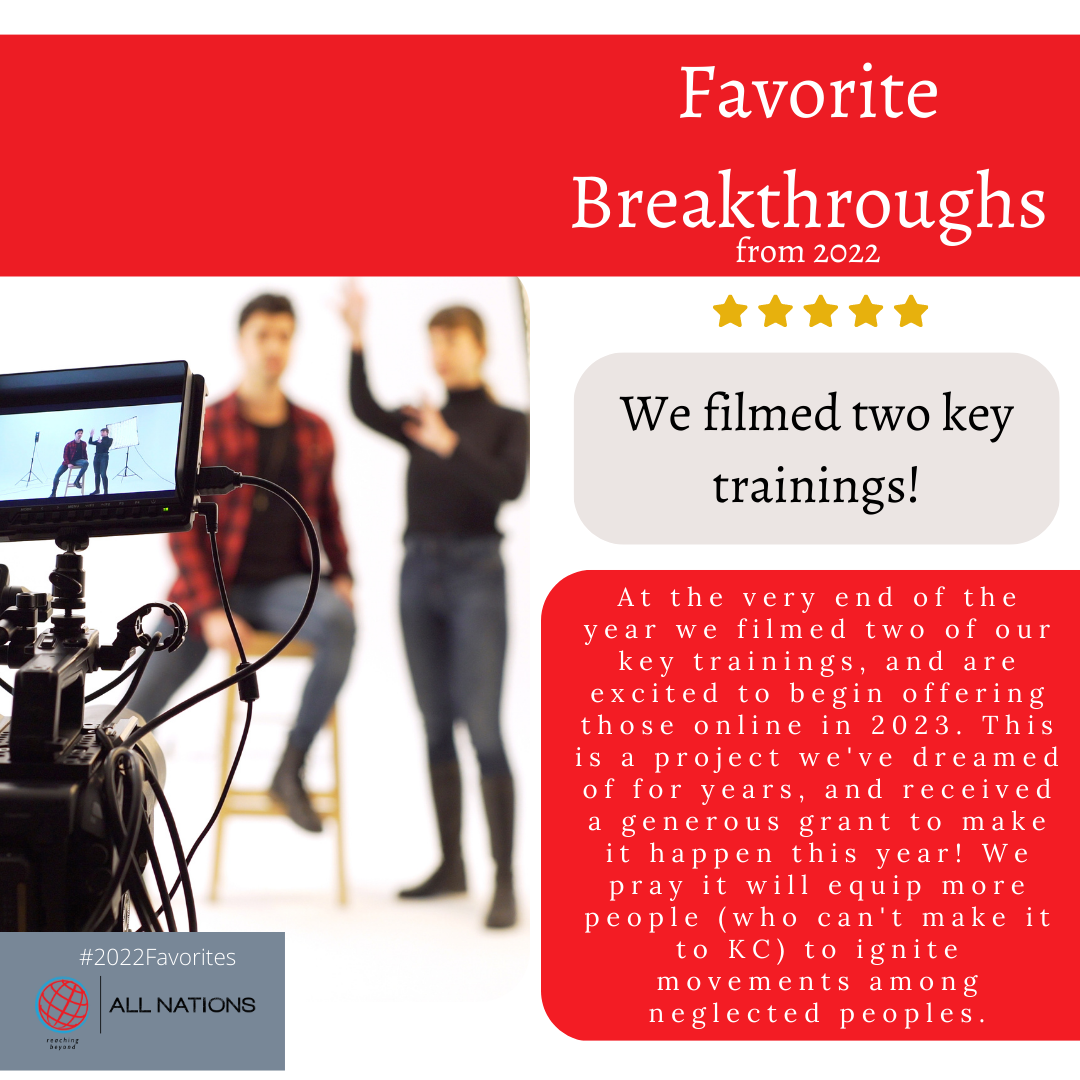 Filmed Two Key Trainings: At the very end of the year we filmed our Storytelling and Catalyze trainings, and are excited to begin offering those online in 2023. This is a project we've dreamed of for years, and received a generous grant to make it happen this year! We pray it will equip more people (who can't make it to Kansas City) to ignite movements among neglected peoples.
Salty Storytelling: Conversation Starters to Spark Spiritual Thirst: We are the salt of the earth, Jesus said. That means that we should make everyone around us more thirsty for God! Get equipped to share simple, practical 'salty statements' in your everyday relationships! See the recording of this training.
Love Thy [Muslim] Neighbor: Muslim refugees are coming to our cities and neighborhoods. They are lonely. We can be their friends. They are broken. We can connect them to healing. They are seeking. We can introduce them to the One whom they seek. See the recording of this training.
Love Thy [Refugee] Neighbor: The nations are coming to out neighborhoods, and they NEED good neighbors! We can't miss this opportunity. Join us to discover practical ways to love refugees of various religious backgrounds. See the recording of this training.