We asked All Nations missionaries around the world to share how their professions, which give them Creative Access to their countries, help or hinder them. Also check out Creative Access: Pros and Cons, Creative Access: Land & Animals, Creative Access: Serving, Medicine, Teaching, and next week's blogs which will also have stories on this topic!
Training National Believers: Dave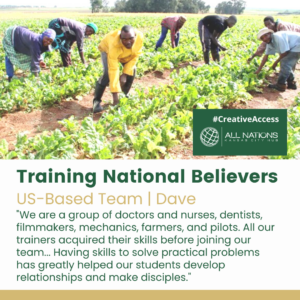 My team trains Jesus followers in practical skills, opening doors for discipleship. We are a group of doctors and nurses, dentists, filmmakers, mechanics, farmers, and pilots. All our trainers acquired their skills before joining our team.
In many countries, we would not be welcome without the skills we bring. Having skills to solve practical problems has greatly helped our students develop relationships and make disciples. For example, some Jesus followers were thrown out of a village they were trying to reach. Later, both they and Jesus were welcomed into the village after the believers had learned basic dentistry skills, which the villagers needed.
Pioneer Business Planting: Africa and Asia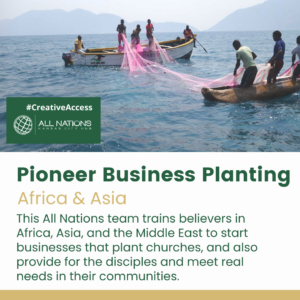 Focus: This All Nations team trains believers in Africa, Asia, and the Middle East to start businesses that not only plant churches, but also provide for the disciples and meet real needs in their communities.
A Story: Gastern was born poor in Malawi. He struggled in poverty his whole life, and also alcoholism and abuse of his wife. He came to Christ and went to a Pioneer Business Planting consultation, where he learned skills to improve his financial situation while sharing his faith.
Without any outside money, he has started a fishing business that provides housing for fishermen, runs a restaurant and grocery shop, and rents boats. He now has the income to build his own home and help his family, he employs 40 people, and he shares his faith often.
Click through here to read his story on the All Nations Pioneer Business Planting website – and explore the blog for many similar stories!
—
Learn about getting trained to ignite a church planting movement (as a full time missionary or a tentmaker!), and the path to the field with All Nations.