How do you share Jesus with people who can't read – and continue discipling them? This is the problem a charity in South Asia invited All Nations to help them solve. Read on to see how this charity connects its legitimate work in the slums of their city to fruitful ministry – and how they creatively solved their problem!
Scholarships in the Slums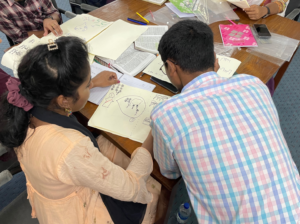 There is a non-profit in a large South Asian city that connects donors to pay for children in that city's slums to go to school. This charity was started when a child from the US visited and learned a girl she met couldn't go to school because of the cost. She realized that she could pay for this girl's education using her monthly allowance – and since then, many others have joined her in sowing into education for these children.
There are local South Asian Christians who work and volunteer at this charity. When a child is being considered for a scholarship, a team from the charity goes to their home to evaluate if they qualify for the scholarship. While they are on that visit, they ask questions and tell stories (like we teach in our People of Peace training!) to determine if the family is open to hearing more about Jesus. This doesn't qualify or disqualify a family for the scholarship, but if they are open, the charity will have volunteers visit them more regularly to share about Jesus.
The problem they were encountering is that the highly educated volunteers and employees didn't know how to share the gospel and disciple people in the slums who didn't know how to read!
Enter All Nations.
Storytelling in the Slums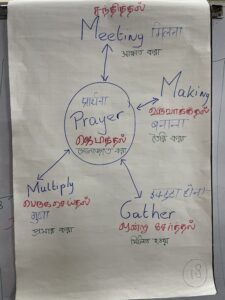 They invited several people from All Nations in 2022 to teach them how to use Storytelling to share the gospel and disciple people to relationship with Jesus. And then, in February 2023, a team of trainers went again to do some follow-up training with the same group. One of them reported:
"In this group was a new batch of interns from the same charity we helped in January 2022. We have now trained more than 50 young people to go into the slums, find families of peace (see Luke 10), help them start Discovery Bible Studies, and then baptize them into simple church groups! Since last year, these interns have visited 345 Muslim families, and found 274 of them to be "green lights" for Jesus – that is, spiritually open and hungry, and willing to share their faith. From among these, 30 families were just baptized in March!"
The goal with this second training involved having some of the ones who were trained the first time help and be equipped to do the training themselves. We are hoping that they can continue training and equipping people to continue this good work WITHOUT needing our involvement. Pray with us for these believers!